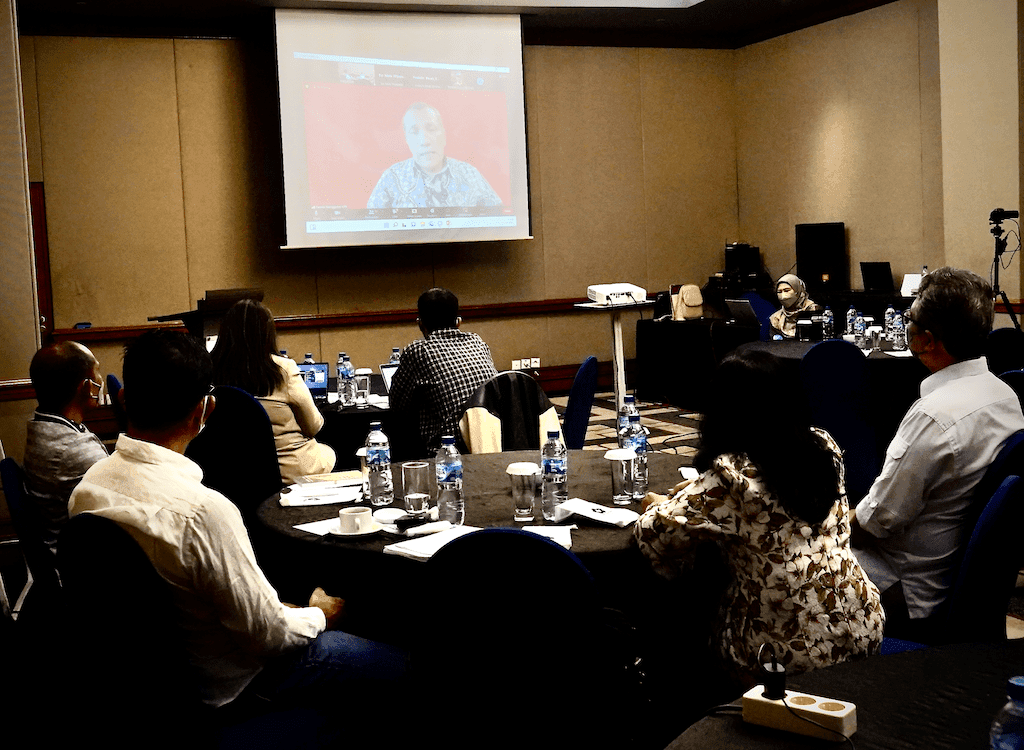 On Monday, August 15, USAID Indonesia Integrity Initiative Program (USAID INTEGRITAS) gathered 25 Civil Society Organizations (CSOs) in Jakarta to discuss key challenges and top priorities for inclusion in the upcoming National Strategy on Corruption Prevention (Stranas PK) 2023-24.
USAID INTEGRITAS is a five-year program implemented by KEMITRAAN, in a consortium with Indonesia Corruption Watch (ICW), Transparency International Indonesia (TI-I) and the Basel Institute on Governance. The program supports the government of Indonesia (GOI) in its corruption prevention efforts through enhancing civic engagement and strengthening a culture of integrity for both the public and private sectors.
Every two years, the Indonesian government – represented by the Ministry of Home Affairs, Ministry of Bureaucratic and Administrative Reform, National Development Planning Agency, Presidential Staff Office, and the Corruption Eradication Commission – develops a new Stranas PK to guide collaborative, whole-of-government initiatives to combat and prevent corruption. But more than a government-driven initiative, this process and its underpinning regulations, also provide a strategic role for CSO input.
In line with its a dual-tracked approach of systems strengthening and public engagement, USAID INTEGRITAS facilitated CSOs to provide input on programming to address systemic corruption vulnerabilities and conflicts of interest based on their rich experience and extensive field research.
This forum also had a valuable opportunity with the presence of Pahala Nainggolan, Deputy for Prevention and Monitoring of the Corruption Eradication Commission (KPK). Pahala conveyed the direction related to role of CSOs in Stranas PK. "The role of CSOs is important in communicating the actions of Stranas PK so it creates an urgent need from the community to accelerate the program implementation," said Pahala.
In addition, CSOs can also play a role in program implementation or execution since planning to implementation. "It is hope that CSOs can take part in monitoring and evaluation whether the Stranas PK has achieved its targets and impacted to the community," he added.
Dondy Sentya, USAID Indonesia Senior Rule of Law Advisor stated that USAID fully supports this program. "USAID fully supports the INTEGRITAS Program to supports the Indonesian government to continuously promoting corruption prevention through strengthening a culture of integrity in the public and private sectors that includes enhancing public participation. Stranas PK is a strategic government initiative to coordinate collaborative prevention efforts among important actors to prevent corruption in Indonesia, and an instrument for civil society to play their importants roles in preventing corruption. I hope this forum can run well and all of you can contribute. We are waiting for the results of your contributions," said Dondy.
The Executive Director of KEMITRAAN, Laode M. Syarif, who also attended this forum expressed his appreciation to the KPK for providing direction in the forum with different CSOs as a part of reflection towards the Stranas PK 2021-2022. "I thank you for all the support that has been conveyed by the KPK to the INTEGRITAS team at KEMITRAAN. In this context to hold a meeting with CSOs to reflect on the current Stranas PK that will end in 2022. Therefore, we need to reflect on achievements and obstacles of Stranas PK implementation," said Laode.
Laode added that through this forum, the participants were also be able to receive directions from KPK regarding the contribution of CSOs in order to enrich the materials for the development of the Stranas PK 2023-2024.
The participants discussed in three groups of sectors which are:
1. The group of natural resources, forestry, marine and fishery;
2. The group of state planning and budgeting, social assistance, village funds, human resources;
3. The group of bureaucratic reform, national police, supreme court, Government Internal Supervisory Apparatus-Aparat Pengawas Internal Pemerintah (APIP) and political parties.
Each group was encouraged to discuss strategic solutions including the potential role of CSOs in resolving corruption issues in each of those areas.
USAID INTEGRITAS with the support of all participants in the CSO forum, identified initial priority areas for inclusion in the Stranas PK 2023-2024, which will be further examined through a series of Focus Group Discussions. The final CSO recommendation of Action Plan will be submitted to the Stranas PK secretariat by October.