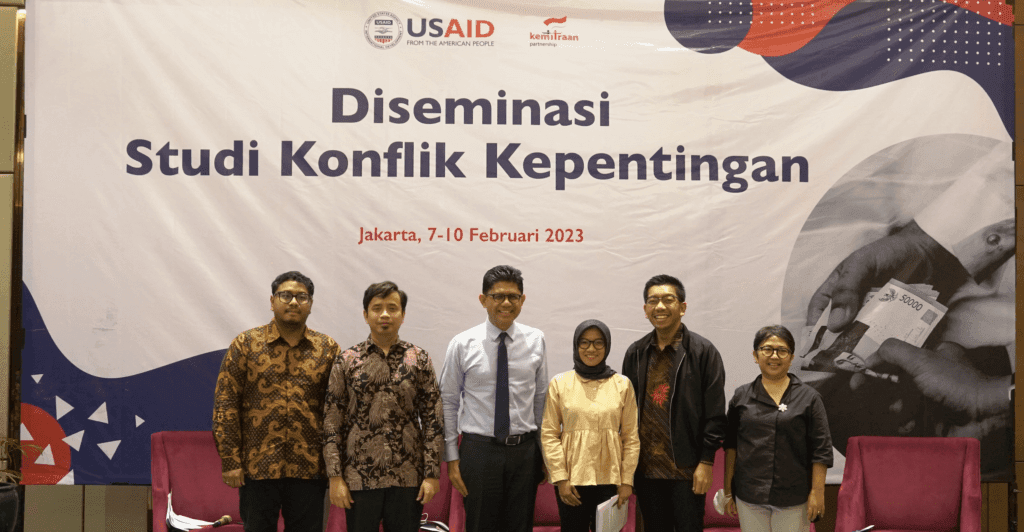 Jakarta, February 7, 2023 – The Partnership for Governance Reform (KEMITRAAN) and Indonesia Corruption Watch (ICW) launched four new studies today highlighting the importance of effective conflict of interest management within Indonesia's broader corruption prevention framework.
Together, this new body of research highlights current gaps in Indonesia's management of conflicts of interest and how those gaps have been exploited – undermining the efficacy of public policy and creating opportunities for the kinds of corruption that every year divert millions of dollars away from public spending and into the pockets of private individuals.
In particular, KEMITRAAN shared a recently completed study that offers new insights into how Indonesian conflict of interest regulations compare to international best practices, and the extent to which policies on paper are implemented in practice. ICW launched two new studies highlighting the risks conflicts of interest pose to the welfare of the Indonesian people, in cases stemming from public procurement and legislative conflicts of interest, respectively. KEMITRAAN also delivered a report shining a light on the often-overlooked issue of sexual exploitation in corruption cases.
While ICW's research was conducted independently, KEMITRAAN's efforts were supported by the U.S. Agency for International Development (USAID) through its flagship anti-corruption program, the Indonesia Integrity Initiative (USAID INTEGRITAS). USAID INTEGRITAS seeks to address corruption in Indonesia through a dual-track approach of systems strengthening and public engagement that facilitates collective efforts among government, the private sector, and civil society to address corruption vulnerabilities and conflicts of interest.
"We believe that corruption corrodes democracies from within, and extinguishes trust in public institutions," said USAID Anti-Corruption Advisor Ahmad Qisa'i. "Improving the management of conflicts of interest is a crucial part of Indonesia's broader corruption prevention efforts."
Laode M. Syarif, Executive Director of KEMITRAAN, acknowledged that based on the research findings, there was still a long way to go in managing conflicts of interest. "Therefore, this analysis hopefully can be a beneficial document for relevant stakeholders and key actors working on the anti-corruption movement to address the gaps in regulatory frameworks so that we can minimize the challenge in the effort on corruption prevention," stated Laode.
In the weeks ahead, KEMITRAAN, ICW, Transparency International Indonesia (TI-I), and the Basel Institute on Governance will work together to share these studies with a broad range of national and provincial government representatives, CSOs, and academics to highlight the risks at hand and new solutions that can be adopted to ensure that public officials are held to the highest integrity and are able to fully execute their duties on behalf of and for the full benefit of the Indonesian people.